RYA Powerboat Courses
We offer a full range of RYA Powerboat courses

"Navigating your way to success"
More Info
RYA Yachting Courses & Adventure Sailing
We offer a full range of RYA Yachting Courses & Adventure Sailing courses from our marinas

"Navigating your way to success"
More Info
Commercial Sector
We will be offering a range of courses for the commercial sector who work in the maritime industry to support the work that they do and career development. These courses will start in April 2021

"Navigating your way to success"
What we offer from the RYA
We are an established training company offering a range of RYA and Maritime training courses for the leisure and commercial users in the UK and Europe. Under the leadership of the owner and principal Ian Patience we have a dedicated team of instructors.
 
We operate two training centres, one in Lowestoft at the Royal Norfolk & Suffolk Yacht Club and the second at Fox's Marina in Ipswich.
 
We take the upmost pride in providing a professional and personal service to our clients as well as supporting our suppliers who enable us to deliver what we do. The team's passion and ethos is to find ways to make boating accessible and fun for all, regardless of experience levels.
We ensure that our instructors are teaching 'Best Practice' and we have a process whereby we constantly review their sessions to ensure that you get the most productive experience from your time with us. All our instructors teach because they love boating and we work with them to constantly 'upskill' their qualifications and experience.
We are also very proud to work with the RYA providing our boats and instructors for their Continuing Professional Development days and events.
When you undertake your course with us the price is all-inclusive, no hidden extras.
Remember in life you pretty much get what you pay for. We don't pretend to be the cheapest, but the course will be on well-maintained first-rate craft and run by instructors guaranteed to teach current best practice. We have excellent facilities in the marinas offering a great all-round experience.
Our approach follows a few simple steps to achieve this:
Understanding our client's requirement
Matching them up with the correct course and solution
Deliver the Courses ensuring we meet with their expectations
Support our clients going forward with advice and help when required
What makes us different is that we invest our time to ensure our clients get the best possible service, should it be on our luxury yacht, our Power Boat or in the classroom.
We firmly believe that one of the things we are most proud of as a company is our ability to combine a friendly and professional approach to our business with the ability to serve such a diverse range of clients.
This is feedback from one course in 2020
"Craig and I have just completed our Day Skipper and Competent Crew courses with Ian on Clearlake, on the River Orwell, Ipswich. Fabulous five days. We were complete beginners, keen to learn a new skill and we couldn't have chosen better teacher. Ian looked after us like royalty on their beautiful boat, he was patient and skilled at showing us the ropes (or halyards & sheets, lol). Ian is a natural yachtmaster with a wealth of experience and knowledge and absolutely loves his sailing, it was an honour to be taught by him. Highly recommend this company."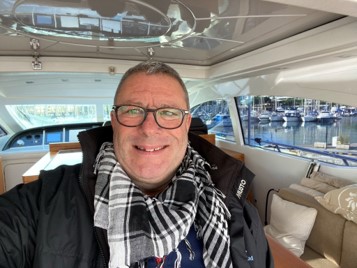 Ian Patience
Owner and Training Principal
Ian is a highly dynamic individual who has a passion to pass on his skills and knowledge. Ian has a hands-on approach, excellent organisational and management skills, and a very clear understanding of the teaching and coaching process.
 
His priorities when working are safety and ensuring his clients have an enjoyable time while learning. Returning happy clients have been key to Ian's success.
 
Ian is part of the RYA Eastern Regional Coaching Team delivering training to instructors and coaches.
 
He has sailed over 80,000 miles in Europe, the Caribbean and the Far East. He has skippered yachts and powerboats up to 86ft ranging from cruising and racing yachts to luxury power boats. He has competed at World Championships in dinghies. In 2019 over an 8 week period he sailed round the UK with clients on board helping raise over £10,000 for Macmillian Cancer Support.
What does Ian do in his spare time? When not at sea he can be seen enjoying long walks with his second love Bella his Labrador or racing his third love a 1923 traditional Norfolk Broads gaff rigged cruising yacht. And when winter comes he has recently reestablished his love of skiing.
Yachting and Theory Courses - Fox's Marina Ipswich
All our RYA yachting courses are based from Fox's marina near Ipswich on the River Orwell. We have easy access to the River Stour and the North Sea. This beautiful river provides the perfect place for a gentle and very picturesque day sail, as well as plenty of space to play if conditions are too lively for a trip out to sea. The east coast rivers and coastlines are perfect to enjoy our full range of sailing experiences and RYA Yachting courses.
The marina is a short distance from the North Sea, providing quick and easy access for day sailing and longer passages alike. One great advantage of sailing on the UK's East Coast is its sheer variety. You can spend many happy days experiencing both river and coastal sailing on its uncrowded waters. You can watch other yachts, traditional sailing barges, dredgers, fishing boats, container ships, cruise liners and ferries going about their business. You can glide past the rolling parklands, farmlands and woodlands that border the rivers, meeting seals, seabirds and the occasional harbour porpoise.
The marina is only 1 1/2 hours by car or train from London and easily accessible from most parts of Essex, Cambridgeshire, Hertfordshire, Suffolk and Norfolk.
Powerboat & Theory Courses - Royal Norfolk & Suffolk Yacht Club
The Mostly Eastly RYA Training Centre in the UK
Based on the North Sea coast at Lowestoft, we have access to 120 miles of navigable inland waterways and the North Sea, this enables us to provide a rich and wide variety of boating areas for all levels of training.
Our training centre is in a perfect position to see the comings and goings of a commercial port. Clients can experience port control lights and the use of the VHF radio.
No matter what the weather may throw at us we have the added benefit if we cannot get out to sea to move in to the dock areas. Our clients spend as much time looking at the various crafts as they do driving the boat. While clients are in the classroom they get to see the large ships leaving and entering the port.
Our centre is located 5 min walk from the train station and easy access from main roads.
Clearlake II – Dufour 455 Grand Large 2009 is a luxury sailing yacht that is both swift and elegant in her design. We offer guests a first class sailing experience whether it be a specific course or adventure sailing. As a teaching yacht she is easy to handle but equally able and comfortable to take ocean passages in her stride.
Length 13.7 m
Beam 4.3 M
Draft 2 m
Built 2008 Commissioned 2009
Cruising Speed 7kt
Sails Full Set, Main, Genoa, Jib no4, Storm Jib, Spinnaker, Cruising Chute
Engine Diesel Engine Volvo 55 hp plus retractable bow thruster
MCA Coded Vessel Cert No R19SV0130013
Accommodation
Guests up to 4 (2 Aft Cabins with large berths)
All Bedding Provided & Towels Provided
Heads Dedicated for Clients Use

Navigaton equipment
Raymarine Chart Plotter & Radar, Raymarine Depth, Speed & Wind
Raymaine Auto Pilot, Digital Yacht Chart Plotter, Navtex McMurdo ICS Nav 6 Icom VHF Radio with AIS, McMurdo EPIRB, 2 Icom Handheld VHF Radios
Iridium Satellite Phone, Digital Yacht AIS
Digital Yacht Client Navigation Tool, iPad Pro Navigation Aid
Additional Equipment
Heating, Generator, Music System (with Bluetooth), Air Conditioning, Water Maker, Television, Microwave, Fridge & Freezer Coffee Maker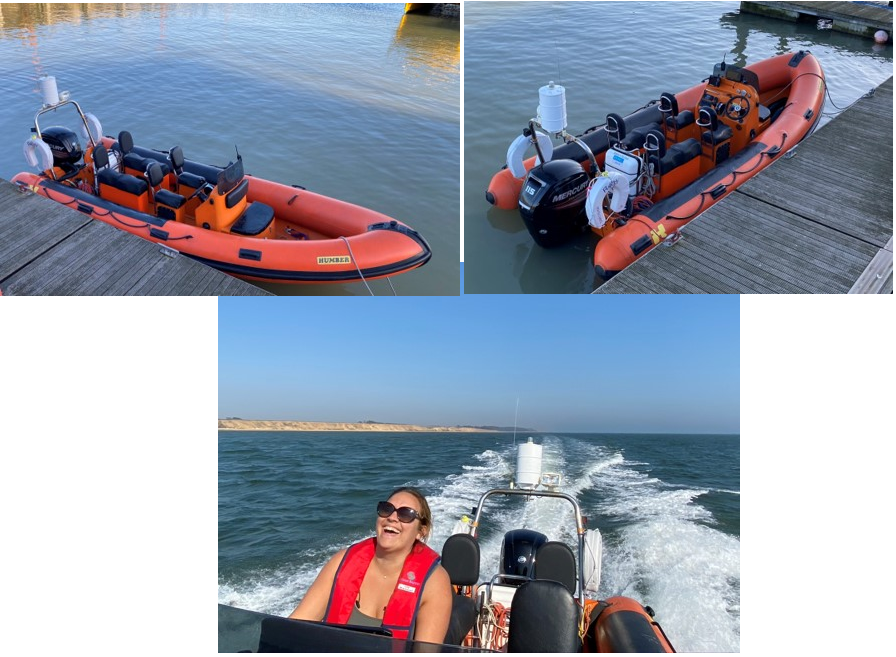 Rebel – Humber Destroyer 6 meter Rib – Designed to exceed expectation the Destroyer series promises you an effortless dry ride due to the performance deep 'V' hull design but with safety and comfort in mind.
No matter what the job at hand the Destroyer series will come through any task with flying colours. The most amazing characteristics of these superb looking craft are their ability to 'grip' the water enabling sharp responsive high speed turns. Any short attempt to become airborne ends with a soft landing as the perfectly formed deep 'V' irons out the shock of re-entry.
Driving our rib brings a smile to everyones face.
Length 6.0 m
Beam 2.28 M
Draft 1 m
Built 2008
Cruising Speed 25kt
2019 115 HP Mercury outboard engine
MCA Coded Vessel Cert No R20MV0060002
Coded for 4 but seating for 6
Navigation equipment
Garmin Chart Plotter 2019
Icom Radio Fixed 2018
Icom Handheld Radio 2020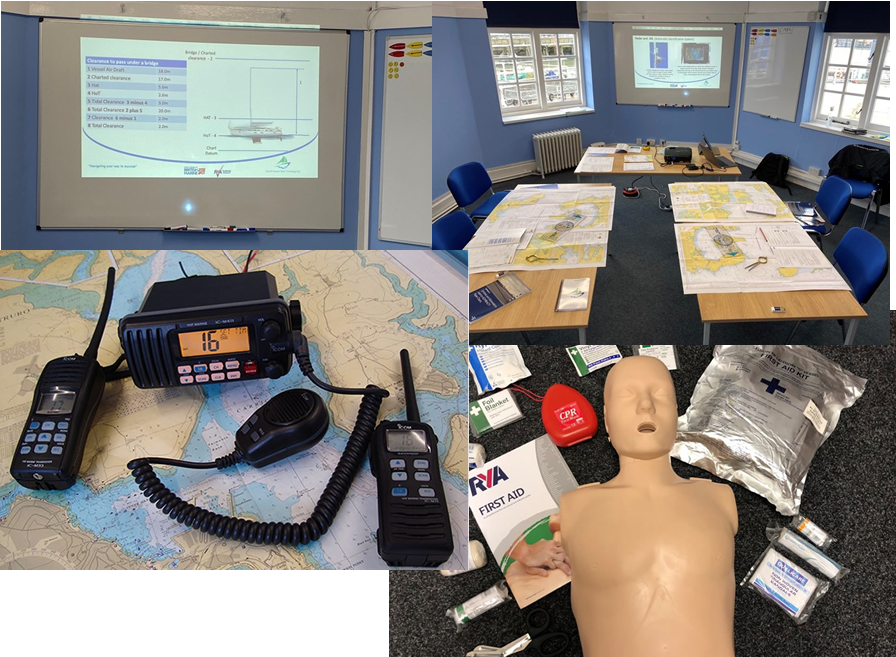 Our Training Room At Royal Norfolk & Suffolk Yacht Club –
The recently refurbished facility comfortably accommodates 6 clients attending our theory courses.
Most important is an endless supply of good quality coffee, tea and hot chocolate with yummy biscuits.